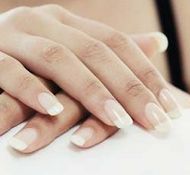 Today i am going to do a tutorial on

how to do a perfect French manicure.

So without further delay lets start with it....

All you need to do is buy a French Manicure kit from any store. I personally do not buy the 'kit'. I just buy the colors separately. But for beginners a kit is needed.
In a kit you will find

three nail polishes : one white, one almost like the skin tone, one crystal clear top coat and last but not the least stickers

( used to paint the nail tips properly)
Now let us get quickly onto the tutorial. It comprises of only four simple steps. So, here we go :-


STEP 1 :-

Apply the skin tone nail polish as the base coat. Let it dry for a few minutes.

STEP 2 :-

Apply the white nail polish carefully along the portion of your 'extended' nails. If you do not have steady hands then you can use the stickers. I personally use the stickers because i do not have steady hands. So, if you are using stickers, the thumb rule is, let the polish dry up properly and then peel off the sticker. DO NOT remove it until the nail polish dries off.

STEP 3 :-

Take a second look at your nails. Check whether all the tips are equally white. If not then paint the ones which are not equally white to make them all even. Else it will not look good. Let it dry for a good 5 minutes.

STEP 4 :-

Finally when the polish dries off, use the top coat ( the crystal clear one) to give it the perfect finish.
And that is how you can do a perfect French manicure in your house all by your self. So do try it out and let me know. And if you have any suggestion, queries or anything just let me know, and i will get back to you immediately.


Have fun with fashion,




Fashionably yours,

Fashionista.




*picture courtesy styletips101.